'Digital Generation'. Our Generation'
Hamro Palo celebrates adolescent girls and their – power, courage, and leadership. While we celebrate girls' leadership every day, we want to make the international girls day a special event.
Every year on 11 October, the International Day of the Girl Child is celebrated throughout the world. Hamro Palo champions girl's education and empowerment since 2012 through our flagship program – HER TURN. Last year, we awarded 5 champions from 5 districts celebrating their leadership and contribution in their communities. Meet last year's Her Turn Leadership Award winners. Due to Covid-19 and its risk of community transmission, we had to postpone this celebration. This year, under the theme, 'Digital Generation'. Our Generation', we want to amplify girls' voices and leadership on digital generation through Her Turn Leadership Award.
Apply or nominate girls that inspire you through their demonstrated leadership in their community for Her Turn Leadership Award. 
Marking the International Day of the Girl 2021, Hamro Palo will be awarding five girls who have demonstrated exceptional leadership, are making remarkable contributions in their community and have vision for the digital generation.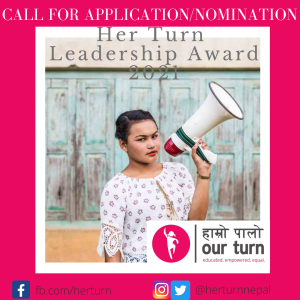 HER TURN LEADERSHIP AWARD IS FOR?
Girls between the age group of 14-20 years 

Must be a Nepali citizen

Should have demonstrated leadership, made contribution for the improvement of their school or community and have vision for digital generation.
You can submit your application or nominate someone you know. 
You can also download the application/nomination form and email us at info@hamropalo.org.np
A panel of judges will select five girls based on the application/nomination, interview, and reference verification. Each selected champion will receive a cash prize of NPR 15,000 each and a leadership course with experts. 
The deadline has been extended till 30th November and the result will be announced by 8th December