On October 11, 2023, we celebrated International Girls' Day, a day dedicated to recognizing and honoring the power, potential, and promise of girls worldwide. This year, under the theme "Invest in Girls' Rights: Our Leadership; Our Well-being," our celebration embarked on an inspiring journey towards empowerment. The event highlighted the significance of girl-led leadership and emphasized the importance of nurturing the well-being of adolescent girls. In this blog post, we'll recap the highlights of this remarkable day and the valuable insights shared by extraordinary young girls.
Panel discussion –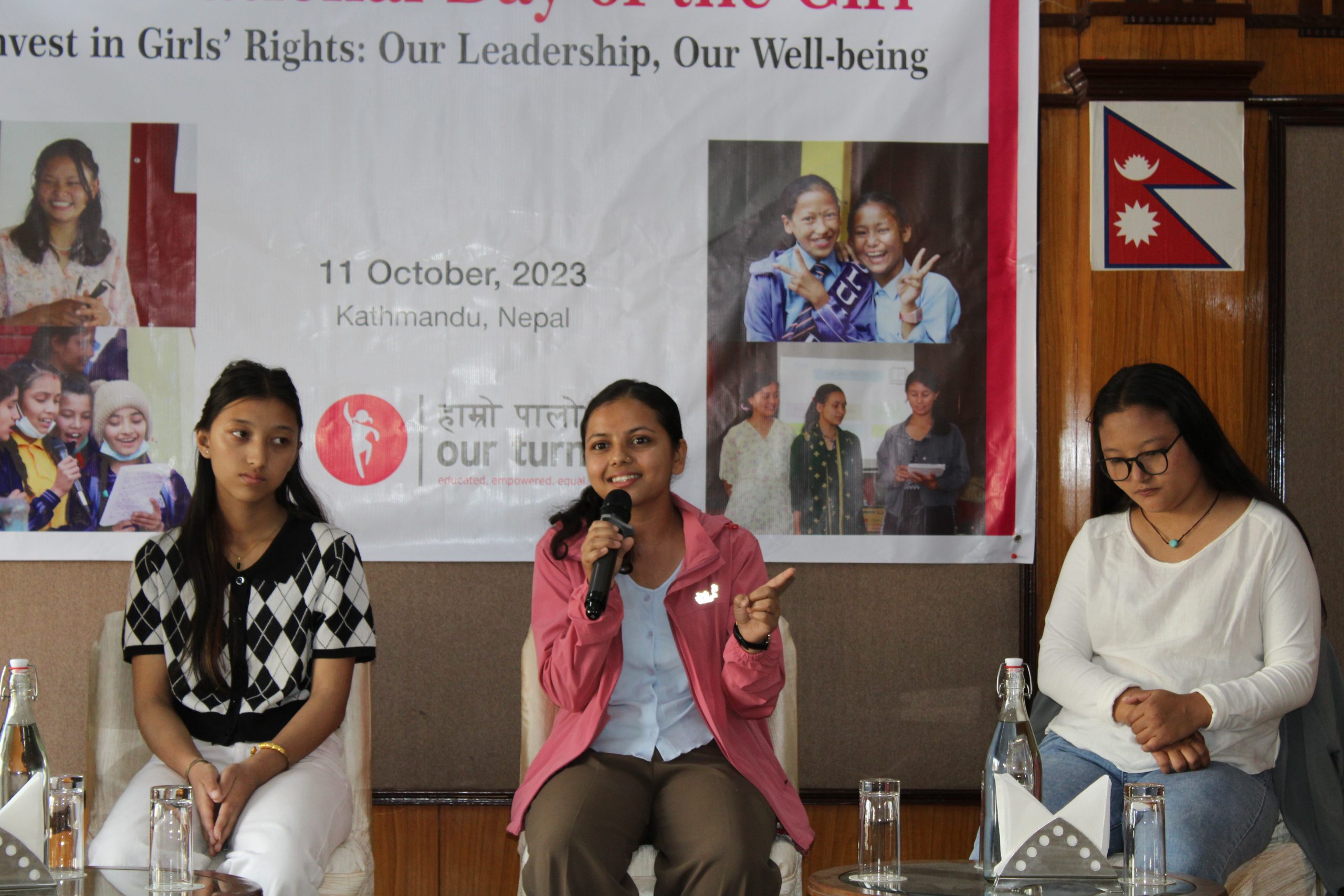 Girl-Led Leadership: The Way Forward
One of the most inspiring aspects of International Girls' Day was the opportunity to hear from three remarkable young girls as panelists. Ms. Tashi Lahazom, a climate activist and youth leader, Ms. Sadiksha Ghimire, a girls' rights activist and recipient of the Her Turn Leadership Award in 2022, and Ms. Dipisha Khada, a Girls Advisory Board member and winner of the Her Turn Leadership Award in 2021, graced our event with their presence. Each panelist brought with them unique backgrounds and experiences, and they shared invaluable insights on why it is essential for girls to claim their rights and nurture their agency for leadership.
The resounding message from these remarkable young leaders was clear: self-leadership is the foundation for becoming leaders in our communities. They emphasized that girls must believe in themselves and be unafraid to seek help and support when needed.
The speakers also encouraged all participants to bring their A-game of self-confidence and to reach out for the support they need. The event highlighted that no girl should ever feel alone in her journey towards leadership. Together, we recognized that every girl has the power to change the world when she believes in herself and is unafraid to seek help along the way.
Workshop: Emotional and social well-being
In addition to girl-led leadership, we invited a collaborator to lead a session on the importance of emotional and social well-being for adolescent girls. This session reminded us all that leadership comes with its own set of challenges, and it is crucial to take care of ourselves. Mental health and building strong, supportive networks were discussed as vital components of a girl's well-being. It is through these networks and a focus on mental health that girls can thrive and continue to lead with confidence. The event was made even more special with captivating performances by students from various schools, showcasing their talents.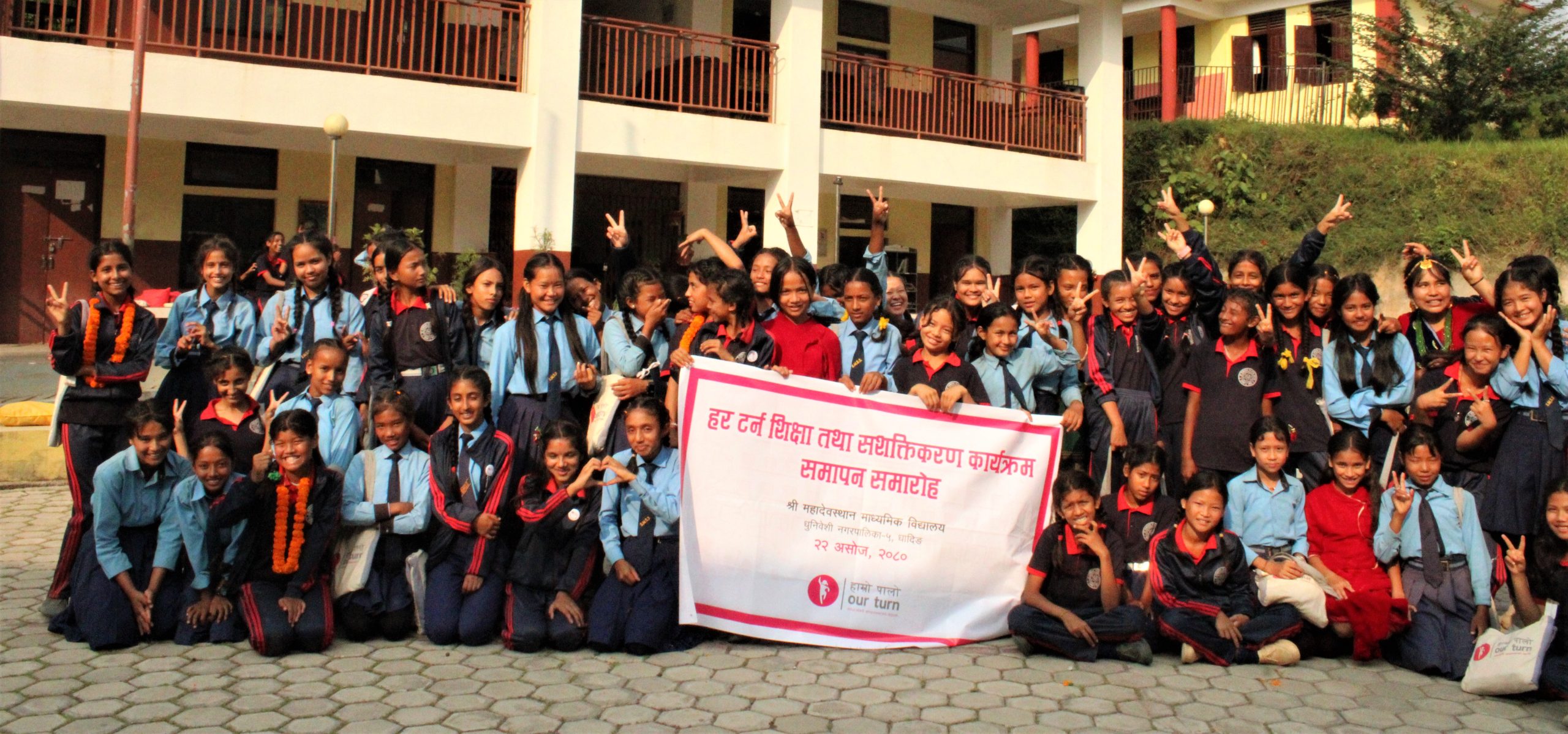 Prior to celebrating International Girls' Day, we celebrated the program graduation of Her Turn Education and Empowerment program, where 127 girls from two community schools in Dhading district completed their journey of self-discovery and empowerment.
The Her Turn Education and Empowerment program plays a pivotal role in building the foundation for self-leadership and collective leadership among adolescent girls. It empowers them to make informed and confident choices about their lives, ensuring that they are well-prepared to face the challenges that lie ahead.
This program graduation was not just a ceremony but a milestone in the lives of these 127 girls. It represented a powerful step forward in their journeys toward realizing their true potential and becoming leaders in their own right. The skills, knowledge, and self-belief instilled by programs like Her Turn are a testament to the positive change that can happen when we invest in girls' rights and provide them with the tools they need to succeed.
At Hamro Palo, we are laying the groundwork for stronger, more empowered, and more confident leaders who will shape the course of history.
#IDG2023 #GirlLedLeadership