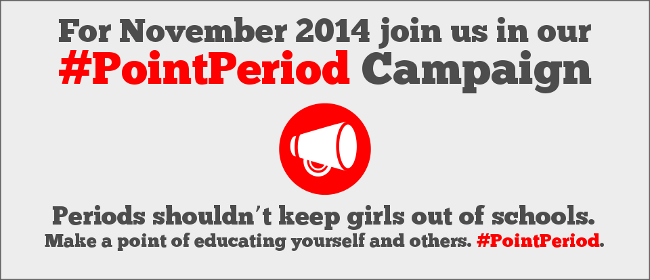 This month, in partnership with Day of the Girl Summit we have launched #PointPeriod campaign. The goal is to raise awareness about how menstruation affects girls' access to education in the developing world. Shame, stigma, lack of knowledge, lack of menstrual materials and infrastructure prevents many girls from managing their periods with dignity. As a result, they miss school days or even drop out. The point is: periods shouldn't keep girls out of schools.
Check out the details of the campaign, visual materials and sample posts and tweets here!
In preparation for the campaign, we wrote these two pieces on the subject: on Girls' Globe: Why does menstruation matter? and on the Guardian Global Development Professionals Network: Not just a girls' problem: the economic impact of menstrual shame. Every week we will be releasing an infographic and on November 11th, 12 EST we will host a twitter chat on this important subject.
Join us in our #PointPeriod campaign! Share our materials, post, tweet, talk, educate yourself and others!