The month of February was about working with and for adolescents. After years of experience in the field of adolescents and education, Hamro Palo learned the reality that many of the issues that rural adolescents face have significant commonalities with those faced by urban adolescents. Urban adolescents and those from community schools are at greater risk of health, and safety behaviors that affect their academic performance, decision-making, and holistic development.
Adolescence is a distinct development period with unique opportunities for the development of capacity and competence, it is vital to educate, empower and equip adolescents with the necessary skills and knowledge to prepare them to face everyday challenges in life. At Hamro Palo, we believe in the engagement and leadership of adolescents at various levels, and prioritizing this, School Mentorship Program was conducted in four of the community schools of Kathmandu; Shree Nandi Secondary School, Shree Bal Byabasayee Kendra, Shree Mahankal Secondary School and Shree Shanti Vidya Griha Secondary School reaching to a total of 130 adolescents of various schools.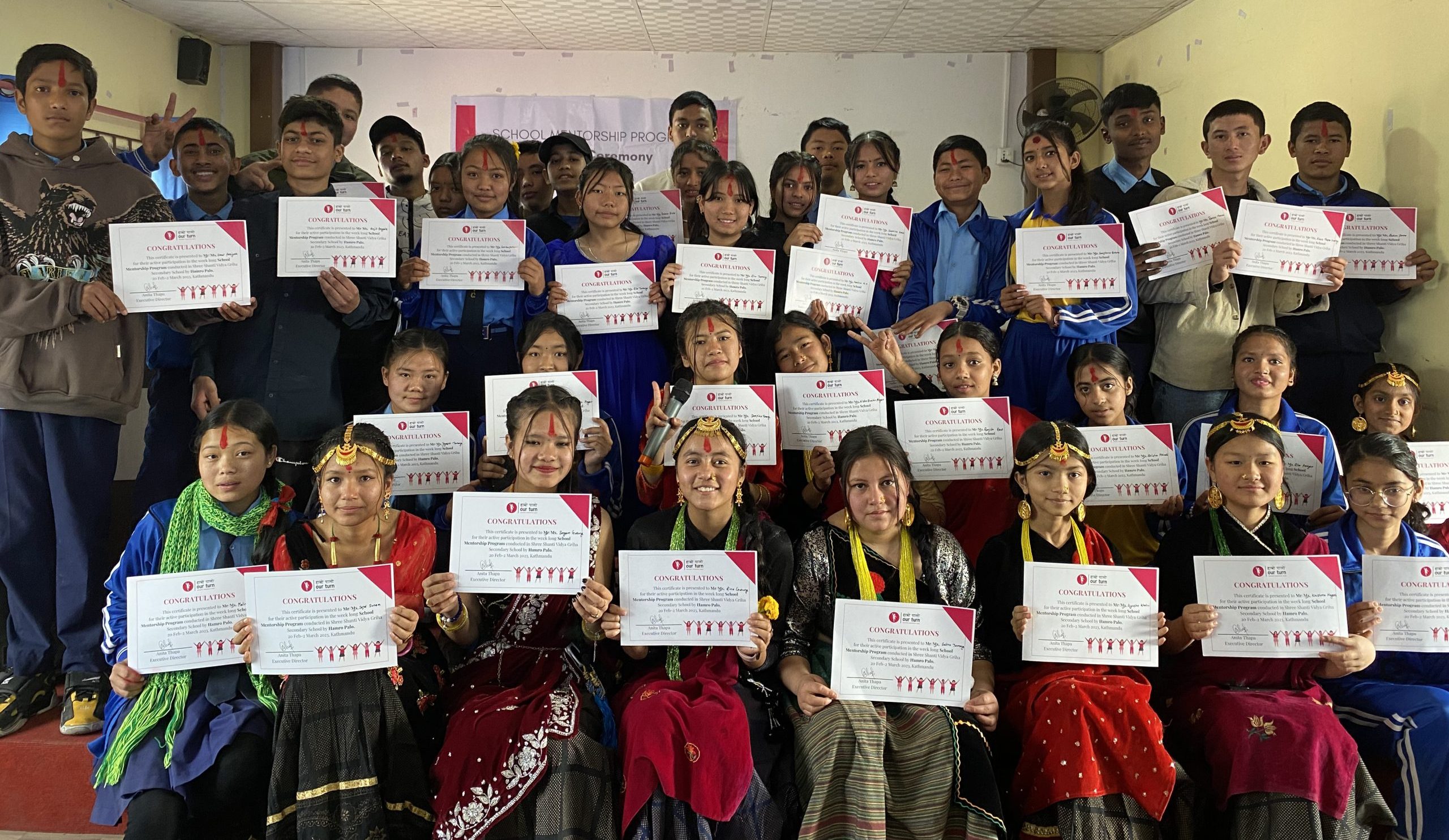 The Hamro Palo team recently facilitated a week-long program for adolescents, providing them with comprehensive education and training on critical issues relevant to their schools, families, and communities. One participant from Shree Nandi Secondary School shared that the program's co-educational nature enabled boys and girls to understand each other's perspectives on various crucial topics. The subjects ranging from bullying, domestic violence, sexual abuse, internet safety, life skills, future plans, and goals were primarily focused on. "The content of the School Mentorship Program was different from the usual school curriculum which consisted of pair work, group work, role plays, group discussions, interactive activities, and games, hence we could learn effectively about several critical issues in a fun and interactive way."- shared by one of the participants from Shree Shanti Vidya Griha Secondary School.
The School Mentorship Program aimed to educate and enhance adolescents' knowledge of various social issues. One of the key topics covered by the program was bullying, including the reasons behind bullying, ways to stop bullying, and the role of participants as allies in creating a safe school environment free from bullying. One of the participants from Shree Nandi Secondary School shared, I learned the importance of reporting incidents of bullying to the school or a trusted adult if one observes such behavior. It is crucial to recognize that bullying should never be normalized." After the mentors helped the participants learn about the different types of bullying they may have experienced, a student from Shree Mahankal Secondary School spoke up and said, "Whether intentional or unintentional, calling our friends names is a form of abuse and is considered bullying." The program also created a safe and supportive environment for participants to share their stories of sexual abuse and violence. The team was able to educate them on various forms of violence, and how to respond and report it as an ally and a survivor, with the goal of creating healthy and safe spaces in schools, communities, and families. "One of the main takeaways for me was that we all have a responsibility to help others stay safe from any type of abuse or harm," shared one participant from Shree Bal Byawasayee Secondary School.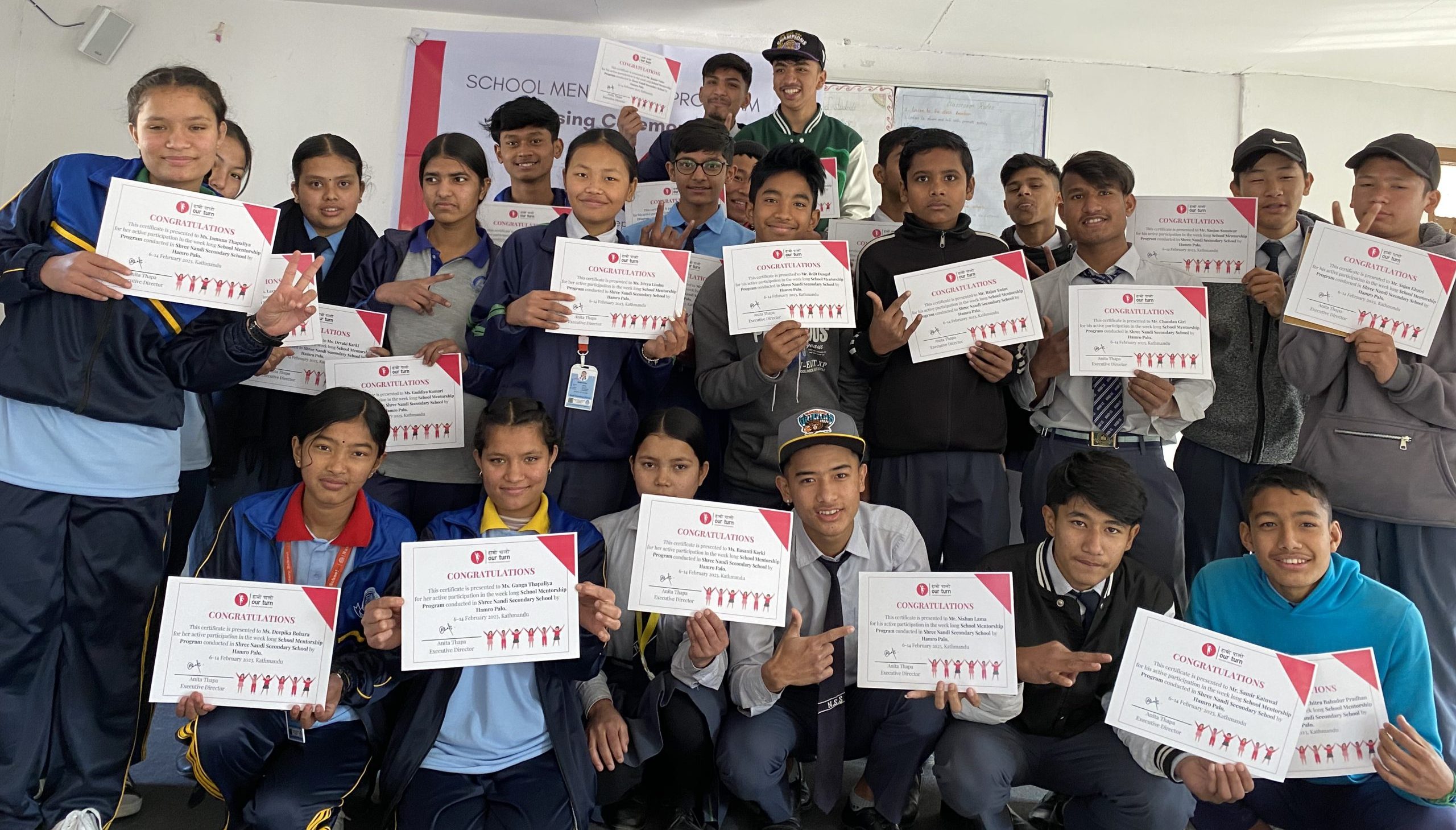 Recognizing the increasing impact of social media on adolescents' daily lives, the program focused on educating participants about the dangers of excessive social media use and addiction, as well as internet safety. One participant from Shree Shanti Vidya Griha Secondary School emphasized, "Adolescents are at a higher risk of cyberbullying, so it's crucial to be cautious about social media safety, especially at this age." Additionally, through group discussions, games, and activities, the program aimed to teach life skills such as public speaking, leadership, communication, social skills, and problem-solving techniques in various scenarios at home, with friends, and at school. The program emphasized that academic knowledge alone is not sufficient to lead a fulfilling life and encouraged participants to develop these practical skills for their personal and professional growth. "Through the leadership game, I learned that politicians are not the only leaders; anyone can be a leader if they step out of their comfort zone and work towards the betterment of their community and country," shared a participant from Shree Mahankal Secondary School. The program also provided guidance for participants to explore potential career and educational opportunities and the necessary steps to pursue them.
The School Mentorship Program concluded with a closing ceremony on the final day, during which the participants had the opportunity to reflect on their learning, celebrate their achievements, express their appreciation for one another, and formally end the workshop with certificate distribution and feedback to the program. It was truly inspiring to witness the participants confidently perform their songs, poems, and dances in front of a large audience.
We are confident that the program provided a nurturing environment that encouraged adolescents to seek guidance and support from trusted individuals and to build a supportive network that will help them overcome challenges in life. We firmly believe that the program will help participants make healthy decisions, achieve their full potential, and inspire others to take agency in their own lives.